Ontario apple picking is the first taste of fall! Barrie Hill Farms is proud to offer a wide variety of apples for 'pick your own' and for sale in the Barrie Hill Farms Farmers' Market from the end of August through late October/early November.
Sunrise: end of August -> mid-September
Sunrise apples are medium to large in size and have a good balance of sweet and sharp flavours. They have similar qualities to both McIntosh and Golden Delicious varieties. Sunrise apples are great to eat fresh, to use in baking, to make applesauce, or to dry.
Zestar!: end of August -> mid-September
Zestar! Ontario apples are medium in size and have a sweet-tart taste with a hint of brown sugar flavouring, and can be compared to the Honey Crisp variety. Zestar! apples are great for eating fresh, dehydrating, and cooking/baking.
McIntosh: early September -> end of September
McIntosh apples are a variety that thrive in colder growing climates, which is why they do so well in Ontario. They are medium-sized, typically dark red and bright green apples that have a crunchy bite. McIntosh apples are a sweet, tangy apple that have a wine-like flavour. They are best used in fresh ciders, applesauce, salads, pies, and of course, eating fresh.
Gala: early September -> mid-September
Gala apples are typically pale red and yellow in colour, and have a mild, sweet flavour with an almost floral aroma. They are a great snack that are low in calories, high in water and vitamins. Gala apples are great for eating fresh, drying, and work great in a fresh salad.
Honey Crisp:  mid-September -> early October
Honey Crisp apples are well known for their large size and unique flavour. They have a very sweet taste and a noticeable crunch when biting in to it. Due to their crispiness, these apples are great in salads and for eating fresh.
Cortland: mid September -> early October
A McIntosh descendant, Cortland is a cross between the Ben Davis and McIntosh. Large globular shape with red-orange stripes. Mild, sweet taste and crisp texture. Excellent for salads and fruit plates; resists browning. Good for pies and sauces.
Ambrosia: late September -> early October
Ambrosia apples are a medium-sized apple that are orange-red in colour. This variety is very sweet, and has a softer crunch that is similar to a Golden Delicious. This apple is a great choice for those who prefer sweet over sour. Ambrosia apples are great for eating, and stay crisp for longer when they are stored in the fridge. They are also a great option for fruit salads and similar dishes because they typically do not brown as quickly as other varieties.
Empire: late September -> early October
Empire apples are a cross between the McIntosh and Red Delicious. Slightly tart; juicy, firm and crisp. Ideal for snacks; makes great applesauce.
IDA Red: early October -> end October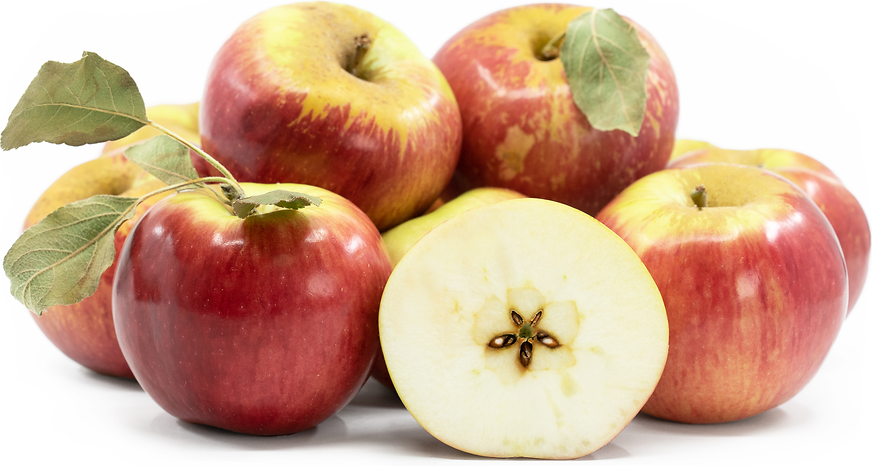 IDA red are a cross between the Jonathan and Wagener. Medium to large with round to flat round shape. Tart; keeps its flavour when oven baked. Ideal for eating fresh or oven baking.
Ontario Apples Coming in Future Seasons
None scheduled (shush – its a secret!!!!)
Barrie Hill Farms apple orchards, that were planted in 2015, opened for pick-your-own Ontario apples in 2017. Based on the success of our 2017 apple picking season, Barrie Hill Farms is pleased to expand our orchards so that there are even more Ontario apples for you and your family to enjoy.